Journal
Buck Paradise Journal
May 27/17 - Hello Everyone. Well it is a beautiful day here in Saskatchewan. Our first week of bear camp is finished and what a good one it is. I am still getting used to the new sight and honestly was flat out all last week with seeding. Then we got rain (2 inches about) on Wednesday so we are shut down for a bit. Full camp of bear hunters coming in tomorrow. We are excited to have all or our clients some new and some returning get back into camp. Brett Kissel will be joinng us this week. Brett is a young upcoming Country singer. So hopefully we can get Brett to break out his guitar and play us a few songs this week. Plus my good friend Ed Goings and his son will be joining us this week also. We hope to start seeding tomorrow again. We have about 5-6 days left and then that should rap our stuff up and then we have some custom work to do for the nieghbors. Peas are already popping out of the ground which is nice to see also. Heading to a Lobster fest tonight with Lana and her girls and a couple of good friends. Should be fun. Going to try to get the pics from last week on here now. Thanks all.
May 17/17 - Welcome everyone to Buck Paradise Outfitters New website. We hope you enjoy the new look and new feautures this website has to offer. Well it has been quite a spring. Super good for whitetail deer, bear and waterfowl, especially waterfowl as it has been very wet. April 1 arrived with warm rain that melted the little snow that we had. We felt at that time we could be in the field in mid to late April. Not happening. With some wet snow falls and cooler temps coming in it was a wet month. Then May rolled in and the rain has been frequent. After today we should have all our peas in the ground (900 acres of them) and then moving onto Lentils and then Canola. We took on some more acres this spring and are putting in around 3800 acres of Peas, Lentils, Canola & wheat combined this year. It rained last weekend over an inch but Garet and I were able to get a few acres in last night. We hope to get in a good day today. Ian, Corey & Jayce have been busy feeding bears. Bear hunters should be excited this year as we have lots and some dandy bears hitting the baits. Jean Hardy is coming back to cook for us this spring. It is good to have Jean back and out of retirement. Lana has been busy helping Allyson getting the lodges ready and cleaned up and looking great and busy ordering groceries for our guest coming in starting this Sunday. Will be a busy place for a few weeks with Bear hunting, spraying, seeding ect going on. We also have Dan Hardes helping us on the farm this spring and Jared who was with us last year for waterfowl and whitetail season will be here Friday to help out with Bear and farm work where needed. I have a great crew and look forward to working with everyone and meeting our some new and some old guests coming in. My sister Lenora and her husband are hosting a roping this weekend. Please check out the events calendar on our new website for more info on that. Couple other things. We have installed a Reverse Osmosis Water system on the place. All our water is now drinking water quality from every tap on the farm and lodges. Good healthy water. Quite a cost but it needed to happen. We try to keep improving for our guests constintly. And the winner of the hunting Knife donated by Jason Kilcup last fall was Stuart Thibediou from Maine. Conrats Stu on a beautiful hunting knife. Time for me to get to work. Enjoy everyone and have a wonderful day.
Mar.13/17 - Hi everyone. Got busy hauling wheat last week finally. It was not ideal weather as it was cold and stormy a couple days. I had some truck troubles that first day. Rad froze up in my semi... so its in Lloyd getting fixed. I have a old international spare that we still use around the farm so I got it going and used it all last week. Rough old girl but does the job. Well this morning I loaded up and started to head out of the yard and it made some bad clunking noise when I moved forward. We figure the rear diff is pooched in it. But my other truck should be good to go tomorrow. So today is a office day. Corey has had a good week with our Western Star truck and super bees. He is putting on some new tires on the semi today and had a belt and fuel hose to replace this morning. So he may get a load in yet to day. We will get it. Boys have been busy helping us and it is suppose to warm up nice this week so we will giver the rest of the week and hopefully get it done. Have over 60000 bushels to move so quite a bit of trucking. Check out the link and show times for the waterfowl hunt that Melissa Bachman did with us last fall. Looks great. Take care everyone.
Grant
---
Feb.21/17 - Hello....Hope things are finding everyone well. Here is what is new around this neck of the woods. Had a great trip to East Washington with Brian Bowers, Brad Alsop & Eric Wulf. Killed a pile of mallards and had a great time enjoying good food and drink. Then headed to Vegas for SCI. Vegas is awesome as always. Met up with some great friends there throughout the week at the show. Didnt gamble that much so came home with more money than usual. Got back home and headed south of Calgary to get my new black lab "Maverick" He is a year old and partially trained. He is a high energy son of a gun and always looking to fetch. I have been working with him a bit and just building that bond between the two of us. I think he likes me :) I sure like him. Been doing a little ice fishing. Not much. More like socializing than fishing. Ian was in Revy last week Sledding. Garet was at a Rush Lacrosse game in Saskatoon Last weekend and Corey is gone sledding this week to Blue River. I have not made any sled trips as of yet but hopefully get one in this year. Well thats about it really... Been busy. Keeping up with bills. Corey did move all our canola at the beginning of Feb. We are waiting on the call to move our Green peas and wheat.. Wish they would hurry and give us that call as it would be great to move it before it gets to warm... Thats it for now. Take care all and chat soon.
Grant
---
Jan.21/17 - Good morning everyone. Hope 2017 is treating you all well. Things are good here in Saskatchewan. Hardly no snow and last week was warm as heck. Great for our whitetail deer herd. So good. I stopped done in North Dakota on my way back from Iowa and did some ice fishing with a good friend of mine Gene Welle. We got into a few walleye and just had a great time. Gene is set up like who done er.... It was fun. I made my way back to Saskatchewan and had meeting in Saskatoon a week ago Wednesday. We are busy setting up our new Saskatchewan Commission of Professional Outfitters. It is a great thing for the Saskatchewan Outfitting business as it will make us a stronger voice. Then I headed home the following day and just been busy catching up with some home things. I leave for WA. to go duck hunting for a few days with Brian Bowers and some friends. Looking forward to that. Then we are off to Vegas to SCI Feb.01. Meeting some good friends down there and should be a good time as always. Then when i get back from that, I am going to go south of Calgary and get my new black lab Maverick. I will post pics of him on here. He is partially trained and I look forward to working with him. Always wanted a good bird dog. He will get a work out around here next fall. Today going ice fishing with Brandon Schreiber. Bookings are coming along really good. Call me if you are interested in coming up as some dates are starting to fill up. Have a good one. Talk soon.
Grant
---
Dec.30/16 - Hi everyone. Sorry it has been 9 days since I have been on here. First off I hope everyone had a very Merry Christmas with all your family. I had a quiet one this year. Spent Christmas eve at Ty & Jesse place. Love there kids Raya & Rio. They are so cute. I had a great time with them. Christmas morning we had brunch and opened gifts. The boys got me a new bumper for my side by side. Looks bad ass. I also put tracks on it and cant wait to take it out ice fishing. Christmas day I headed out after brunch to Iowa. Had to make a stop at Rion Whites (my taxidermist) to drop off Garet and I mule deer and my Whitetail from this past season. I continued on and made it to Weyburn, SK. It was starting to storm pretty good and it was dark so I did not press on any further. Had a great sleep then I headed south of the border. The weather was terrrible. Most of the highways were shut down but I went past the road block and continued on. Pretty quiet highways and visibility was not good. What a guy will do to go deer hunting. Anyways I made it to Harvey, ND. It was 4:00 PM and the storm was getting worse. So there was a nice hotel by the highway so I pulled in. Bar & Grill there.... Good enough. That was far enough for the day. So I stayed there and had another good sleep. I awoke to clear blue skys and my destination was Decorah Iowa. I made it there about 7:30PM that evening. Brian Bowers and Eric met me at the hotel and we had some drinks and guess what.... Talked Deer hunting. I was excited to get in the blind the next day as Eric had a 5 year 4X4 with flyers coming off his G2 that was coming into one of his plots consistently. He did not let us down. He showed with about 30 other deer. He stayed at the back of the food plot covered up with deer in front of him. I just about got a shot off and then he walked into the standing corn. So we waited. Finally with about 5 minutes of legal shooting time left he came out. And finally presented me with a clear shot coming towards me quartering to his right. I put the cross hair of my muzzleloader scope on his front left shoulder and pulled the trigger. Well all hell broke loose and we watched 30-40 deer bust out back into the woods behind the food plot.... We watched all the deer leave and the ol buck I shot at was no were to be seen... We called Eric and he came in and we walked to were I took the shot.. Nothing... No blood... No hair... Nothing. I walked straight back from the plot looking for any sign and had gone quite far and Eric whistled... I headed back towards him and Brian. Eric says. I think you missed bud... After a few choice words to my self I said I guess..... He then said "Thought you would be buying the whiskey tonight to celebrate" I said I will buy it anyways for missing. I could not believe I missed as the shot felt so good. Then he pointed his flashlight to the edge of the cut corn and said there he is... :) Ya I had a big smile. When I shot he went through the 30 yards of standing corn to his right and then out in the cut corn and was done. He only went like 50 yards if that and was dead. Made a perfect shot. What a great buck and I was one very happy hunter. We got him gutted and hung him up in a farm shed and took care of the rest of him yesterday. I am just hangin out here in Iowa. Might go visit some of my hunter friends here for a day or two. I am going to stay and wait till my good friend Bryon Bernard comes in for his hunt with Eric on Jan 2nd or 3rd. I want to spend a few days with Bryon and I saved my doe tag for when he is there so I can still hunt. I plan to spend 2-3 days there with him and then head to North Dakota to go do a little ice fishing with my friend Gene Welle for a couple days. Thats it for now... Happy New Years everyone. Keep safe. Thank god for all your blessing and I hope 2017 is a great year for everyone. I am going to find a place to go watch UFC on New Years Eve. Ronda Rousey is back and I am excited to see her fight. Later all. Have a good one.
Grant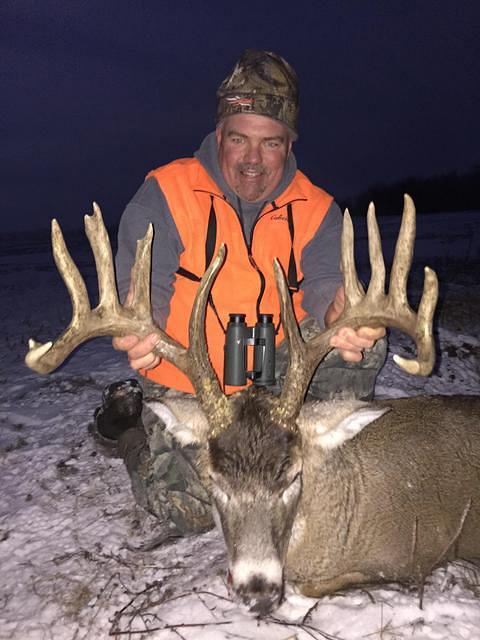 ---
Dec.21/16 - Good day to everyone that loves to follow this journal. I appreciate it. Well Monday was a beautiful day and Corey, Ian & I headed out to elk country. We put some miles on driving and found a huge piece of woods that had lots of elk sign going in and out of. We got on the right side of the wind and started walking. Corey was the first to come up to about 30 elk. He got a single shot off at a cow but hurried his shot and they took off. I seen all these elk go through a opening but I was about a 1/4 mile away so I just kept going hoping they would circle my way. I kept walking and was bumping up Mule deer & Whitetails as I walked. All of a sudden this elk came walking out of the woods...... A awesome 350 class bull elk. Stood side ways 80 yards away just looking at me... Jimmy Christmas (those were not my choice words) But we had anterless tags only so I just watched him stand there and eventually he walked off. If there had been a cow with him it would have been a done deal, but no... Just him. I kept walking. All of a sudden behind me I heard 2 shots. It was Ian... I turned around and from the clearing I just walked through along the edge of it here they came. I was about 200 yards away and they were running through the trees. I took a shot but nothing... Well we pushed everything out of those woods and so we got back to our vehicles and followed them to the next big chunk of woods. We found were about 10-12 elk went in and I told Corey and Ian to get on the the other side and I would try to push them out to them. Big country and lots of places for them to go. So I headed in. Did not get to far. There is a calf moose laying 50 yards in a slough bottom from me. Mom was there beside it watching me... So if it had been moose season we would have had fresh moose meat... I kept going and was walking up a little knoll in the woods and all of a sudden 10 elk jumped up and before I could even get my gun up they disappeared in the thick woods. I was hoping they would run towards the guys but they never. After that the sun started going down. Even though we didnt get a elk I was happy with the day. Seen a lot of game. Was out enjoying mother nature and spend some time with my son and Corey who is like a son to me.. The guys are busy in the shop fixing quads and sleds. I spent the day mostly cleaning up my desk which is always a relief to get done. Hope you all have a great day. Chat soon.
Grant
---
Dec.18/16 - Happy Sunday to all of our Journal followers. Had a good weekend of hockey and a nice Christmas party at my best bud Barcley Fishers new shop. Garet & Crew played hockey Friday night in Paradise Hill vs Hillmond. Great game but the boys came up short loosing 6-4. Last night we packed up and went to Lashburn to play the Flyers. We were up 1-0 after 2 periods and was looking good but we had some bad breaks in the 3rd and the boys ended up loosing 4-2. After that a few of us ended up at Barcley shop where he was hosting a Christmas party/Birthday party for his beautiful sister Jacqueline. Lots of people came and went and it was a nice/late evening. We are heading to Grandma Kuypers this after noon for a supper with the family. It starts :) All good. Tomorrow the boys and Corey and I are going to put a big day in looking for some anterless elk as tomorrow is the last day for us to be able to hunt them so it is game on. Take care all and chat soon.
Grant
---
Dec.16/16 - 2 days in a row. Good bye. Lol.. Just kidding. Cold here today. No snow to speak of so the deer are doing great. Corey and I drove around today looking for a couple cow elk to shoot as mentioned below we have anterless tags to fill. Season closes the 19th. Seen a lot of deer on our tours tonight and this makes me and corey both very happy. They look fat and sassy after a very easy November. Other than that. Not much else new. Garet has a game tonight that I am heading into and cheering him and the boys on. Life is good. If we shoot some elk I will post a few pics in the photo gallery. Just be cows or calves but hey thats good. Good night all.
Grant
---
Dec.15/16 - Hi everyone. Grant here. I took a few days off after the season to regroup. Actually took a last minute trip to Vegas with Brandon & Amanda and a few other good friends. I had a really good time with them as they are some of my favorite people. I want to Thank Beccca & Katie for the great job they did with the journal this past fall. AWESOME job girls. Also want to thank all my guides. For Whitetail - Corey, Garet, Ian, Jayce & Jeremy. Awesome job as usual boys. You are doing great and thank you for putting your hard earned equipment through so much taking care of our hunters. I really appreciate it. Thanks Monica for all the great food from the end of August to the beginning of December. Great job and we hope you are coming back next spring.
To my Waterfowl guides. Barcley, Johny, Brandon, Jayce (Tikka) & Jared. What a great fall of watefowl hunting. Thanks boys for all your hard work and decidation to BP. Much appreciated. Ian headed to the mountains a few days after the season was over. He came home last night as he says it needs some more snow and I think he was missing his old man a bit... ha ya right. More like a cute girl named Emilia. (I hope i spelt that right).

The boy and I and Corey have draw anterless elk tags. Season goes till Monday so tomorrow we are going to head out and try and put some awesome grocerys in the freezer for the upcoming year. Bookings are going really good. If your interested in hunting with us, please dont wait to long. 1st come 1st serve here. Well I am not going to go on and on so that I have things to talk about tomorrow or the next day :) I will do my best to keep on here and keep you all updated with what is going on around Buck Paradise.
One more thing. A Very big Thank you to all of the hunters that have come to Buck Paradise for the hunting destination. We try hard to give you the best experience we can and we truly do appreciate all of your business. Thank you. Later all
Grant
P.S. Check out this cool link from my Good friend Mike Hanback. Hope it works
http://bigdeerblog.com/?p=4417
---
Dec 5/16 - Clay and Troy have tagged out and are on their way home tonight. It has been an amazing season. I am so happy we did it and it was a successful year. It is clean up time and are we busy. I have been running back and forth from the shop to the cabins to clean and cook. I am excited to be able to look back on what I and all the rest of the Buck Paradise crew have accomplished this year. Its crazy to know that it is over but we all need to catch up on our rest and clean/fix all our equipment. I know I am so excited to head home and see my family I missed so much. Jayce and Jared left this past weekend for their hometown that is eight hours away. They had an amazing season and we are excited to see them next season. I am sure Jayces little dog Tikka will be happy to have some time at home too. We have met some amazing people and tagged out on some beautiful Whitetails. I will have to get back to all of you once the clean up is all done and cabins are set waiting for next season. Gotta run, talk soon.
Becca
---
Dec 3/16 - We found Jeremy beautiful buck early the next morning. He is so happy of his trophy. It has been a crazy week I really havent been over to the shop enough to write out a journal for everyone. Jeremy and I have been cooking up a storm. Nat had came in for the week to help me out and hunt in her afternoons which was great having her. I really appreciated it. It was amazing having him in helping out I truly learned many skills and recipes from him. The Jeffers are leaving tomorrow morning and Stan will be leaving after a morning hunt tomorrow as well. We will then only have two hunters in camp Clay and Troy. I will be in full charge of cooking and cleaning but I am confident that it will all work out well. I learned from the best so it should be great. The days are getting colder and colder. Lots of movement is coming in to the blinds because of the shift in weather, hopefully we will get Clay, Stan and Troy their Whitetails very soon. Talk soon.
Becca
---
Dec 1/16 - Well last night Jeremy Jeffers our assistant cook and hunter has shot a beautiful buck. There is blood, a few chucks of hair, and camera shots. But no deer. We are all out looking this morning for this buck! We are getting in our two last hunters Clay and Troy today. One more week. Once Jeremy is off on Saturday afternoon cooking and cleaning is fully in my hands. We have lots of meat and ingredients to make some amazing meals for the last few days in camp. I will get back to you all once we find Jeremys Whitetail. Talk soon.
Becca
---
Nov 29/16 - It has been some crazy few days. Lets see the last time I talked to all of you was Saturday and today is Tuesday. Sunday morning we said our goodbyes to all the amazing hunters that were in camp this week. Jeremy Jeffers a hunter from Florida is with us with his Dad Dan Jeffers. We also have Stan Burke in. With three hunters Monica has got to get off work a week early. It was so sad to see Monica leave us but we will see each other soon and I know her kids miss her and her cooking so much. Jeremy has been talking about cooking for us ever since he signed up for this Whitetail week. Jeremy and I are cooking up some great food for all of us at Buck Paradise. It is a crazy change of schedule for me but that's fine with me I love to help out and stay busy. Talk soon.
Becca
---
Nov 26/16 - Yesterday was the grand opening of the Paradise Hill community centre. We had live entertainment from Gord Bamford. It was a fantastic night seeing community members and friends. This morning once everything was settled in Julio Gesnard shot out with beautiful buck. He was guided by Jeremy earlier in the week but he has left us last night to go visit some family. Jared has took over Jeremys hunters including Julio. Julio is now sitting with his son in the blind to find a trophy for his son to take home. Frank Diblasio has left us yesterday afternoon as he is off to visit family in Alberta. Hope all is well. Talk soon.
Becca
---
Nov 24/16 - Frank DiBlasio has tagged out this afternoon with a beautiful Whitetail. Corey was his guide. Frank has been down to Buck Paradise many times and it is always a pleasure having him and all the rest of our fellow hunters down. We have nine hunters in camp and we are loving their company and stories everyday after their time in the blind.
Today I went for a grocery run to Turtleford and I got the chance to visit my Dad. Love and miss him very much, so blessed I got the chance to catch up. We have two fathers that came in with their sons this week all of them are hunting. It is amazing to see the bond father and son have when they have a sport like hunting in common. I really can't believe it will be Friday tomorrow this week has just flew by. We are having American Thanksgiving tonight in the cabin. Hope everyone is having an amazing Thanksgiving. Talk soon.
Becca
---
Nov 23/16 - The frost looks beautiful today. It has stuck to all the outdoors and crystalized. I haven't been out of the farm for a while now so I am not even sure what the roads are like around here, but if the guides are getting their hunters to their baits safely that is all that matters. The days are so much shorter with the sunsetting at around 6:00. Monica and I are always busy keeping the lodge clean and full of fresh food. The appitzer tonight is Natalie's Buffalo Chicken Cheese Dip. I hope the stories are very exciting when all the hunters come in tonight. Night all.
Becca
---
Nov 21/16 - What a day today, this morning we had a grocery run which was always busy and packed but so nice when everything thing is in the cabin and in the right place. We had everthing ready and in place for supper when Garet called and told us his hunter David Hussel had a buck down in the bush. It is a great trophy, David is very excited about his new Whitetail.
As everyone left to pick up there hunters, Monica and I got some appitizers ready and dessert. I left to the shop and came into two bucks down in the shop, turned out Grant just went up the road this afternoon to look in the bush and he found a beautiful buck. Congrats to David and Grant. Two bucks down here at Buck Paradise today. Can't wait to see what the week will bring us and our hunters. Talk soon.
Becca
---
Nov 20/16 - Beauitful sunday today, easy change over for myself as I finished all the major cleaning last night. It was a weird feeling to sleep in but I did enjoy the extra hour of sleep. The snow is still all settled in. Its very beautiful with the frost on the trees, and the calm breeze that passes through.
We have met all our new hunters in this week, always nice meeting new people. Full house last night for supper and for the next few days until we have to say our goodbyes to Melissa. It is always nice to have a full house, always busy and always moving which I really do enjoy that. Good luck to our hunters this week I am sure we will see some amazing bucks this week. Night all.
Becca
---
Nov 19/16 - A beautiful buck was shot this afternoon by Louise Dompierre. She was guided by Jeremy. Check out the photos of her new trophie we just put them up. We only have Melissa left in camp. I have just finished changing over the cabin so it is all ready for the new crew coming in tomorrow afternoon. It was amazing meeting the crew that came in last week. Hope to catch up with all of them in next years season.
Garet has a hockey game tonight in Paradise Hill so some of us are heading out there tonight to cheer him on. Snow has hit the ground after supper tonight, its nice for the weather to finally be catching up with the date. We are all excited for the new crew to arrive, our crew this week is eight hunters. Hope all is well with everyone. Talk soon.
Becca
---
Nov 18/16 - Quiet today around the yard. Grant was out finishing up with combining, Garet was out in the bush baiting, Jared was cutting meat up to make some deer jerky, Monica was in the kitchen cooking and baking for us, and I was all around cleaning and organizing. The most tedious job I do is dusting off the mounts in the cabins. They are so beautiful... but so heavy. Very happy that is off the list for a little while.
The hunters have had some nice stoires of the little to big bucks they saw, and some doe's with their fawns. It is crazy when you put yourself into nature and get to see all the different animals and their different characteristics. Tomorrow seems to be looking like a colder day and we may experience some snow overnight. We will have to see tomorrow. Talk soon.
Becca
---
Nov 17/16 - Jim Forystek tagged out early this morning, guided by Ian. He was very proud of his new Whitetail. We had a cold morning today, it was very nice to see the sunlight for awhile this afternoon. Tonight is steak night. Jason Kilcup a great friend and old guide here at Buck Paradise is cooking them for us tonight. Jason handmakes some amazing knifes, we even sell some in our merchandise shop. He has a knife up in the our knife raffle, hunters have been putting there names in all season. Its gonna be great to find out who wins this one of a kind knife. Hope all is well with everyone, talk soon.
Becca
---
Nov 16/16 - Today we said goodbye to Ben and Horace, it was a pleasure having them in camp, and we are happy they got their trophies. We are still having weird weather up here. Cold mornings but then warm afternoons. We are starting to see some frost overnight, the local cities around us have had snow so we are expecting it to come our way any day now. Today is our guide and great friend Jeremy Ford's birthday. Happy Birthday Jeremy, very happy to have you apart of the Buck Paradise family.
Four hunters in camp today, tonight we will welcome Melissa Bachman from Winchester Deadly Passion. This is her second time up at Buck Paradise Outfitters. Her first time was during Waterfowl this September. Go check out her website for the amazing footage they got! Good luck to out hunters! Night all.
Becca
---
Nov 15/16 - Hello all, Exciting day today. Ben Lynch tagged out early this morning. Guided by Garet. Congrats Ben. Then at around lunch time today Garets other hunter Horace Jones tagged out as well. They are on their way back now with Horace new trophy.
Grant is down at Makwa, SK helping out a neighbour finish off their harvest. It is so amazing to have people around you that are willing to help out no matter how crazy their schedule may be. I know our family would do anything to help out others, whether small, unplanned acts or regular volunteering. Always helping others.
Check out our photos that will be posted later today of the bucks shot these last two days. Also our "Meet the Staff" is being updated so you can check in on that and see all the familiar faces here at Buck Paradise Outfitters.
Becca
---
Nov 14/16 - Hi everyone, One of our hunters here named Shawn Madden tagged out at 2:30 this afternoon. He is excited about his new trophy. Shawn was guided by Corey. Shawn has been down to Buck Paradise more then once, so I am sure he will enjoy his next few days he has out here. Ians hunters said they saw two big bucks but missed there chance to shoot out. The stories are slowly coming in about all the little to big bucks and doe's the hunters have seen today. We are all having some appetizers before we head to the cabin to have supper and share some more stoires. Good luck to all the hunters heading out tomorrow. Thank you so much to everyone checking in on our journal. Talk soon.
Becca
---
Nov 13/16 - Hi everyone, I am so sorry I missed out on the journal yesterday. It was just a crazy day. We had to say our goodbyes to the four hunter group from Maine, USA, Felix from Vegas, Nevada, and the three hunter group from Michigan, USA. They were all such amazing people. Michigan groups Gary Elza tagged out early in the week. He waited paitentily for news of David Ranck, Felix Binaco, & Terry Smith shooting out or of what their sights were those days in the bush. Sadly David, Felix, and Terry hadn't got the trophies they were looking for. They all were so patience and good spirited as they went out every morning. I hope to see all of them soon in the following seasons.
Yesterday I changed over all the cabins so they were nice and shiny for the new hunters that came in today. Garet also had a hockey game last night in Wainwright, AB. The team and fans took a bus down to the game. The Wainwright team was an older and tough team, one of their players even lead Albertas Junior League in points two out of three years. The Paradise Hill Hawks lost 9-3.
This afternoon we met seven out of eight hunters that are in this week. Tamara Ford, our guide Jeremy Fords wife is also hunting with us this week. We are all wishing good luck to the new hunters this week on tagging out on a beautiful buck. Night all I will get back to you all tomorrow.
Becca
---
Nov 11/16 - Today is Remembrance Day, today we honor and remember those who made the ultimate sacrifice in service to our nation. We are all honored here at Buck Paradise for our men and women veterns. Always Remember.
Grant has been in the field all day helping out local farmers down south of Paradise Hill in finishing up their fields. We all hope everyone gets the crop off soon before the weather changes on us once again. Tomorrow morning we will sadly be saying our goodbyes to the group from Maine, USA. They have five hunters in their group so tomorrow will be very slow and quiet. The other three hunters are still deciding about going out for a morning hunt tomorrow or leaving early for home. The three hunters that were out today we have not heard of their stories just yet, but we are all sure they will have some interesting things to share at supper tonight.
Becca
---
Nov 10/16 - Hi everyone! The weather up here in Paradise Hill has been so beautiful. Cool mornings, warm afternoons, and ending the day with a relaxing sunset. Today the community field has finally had the chance to be harvested. Grant pulled out his CX8080 New Holland combine, and made his way to town to help out a few of the local farmers. They have been combining Canola all afternoon, and hope to finish late this evening. The community field is planted every seeding season. The profits of this field go towards the community hall. The brand new community hall will be opening November 25th with live music from Gord Bamford. It really is amazing what happens when a community comes together.
We have said our goodbyes to one of our hunters Murray who has been out to Buck Paradise for mutiple years. Its always sad to say our goodbyes to the hunters, because we all come together as a family during the week. Sharing our stories, visiting in Just One More, and having our meals together. There are nine hunters left in camp. Six have got their trophies and are relaxing in the cabins for the last days of their vacation. Three are out in their blind today. We are all anxious to hear the stoires they will have when coming in for supper tonight.
Becca
---
Nov 9/16 - Last night before supper one of our hunters Kevin Maxwell shot out. He was guided by Jayce Wilson. It was a very exciting end to the day for all of us here at Buck Paradise. Today Paul Fortin shot out at around two in the afternoon. He was guided by Ian Kuypers. The group of hunters from Maine, USA have all shot out, Paul being the last man to get his trophy. This group has had a successful week so far and we have only hit Wednesday! I am sure they will make the most out of their last few days of their vacation. We have four hunters left in camp. Murry & Felix guided by Cory Jenkins. David guided by Jeremy, and Terry guided by Ian. Its only early afternoon, I am sure we will have lots more stoires to share before the day is over.
Nov 8/16 - Hello everyone. Its always hard to tell what the day will look like when your out at Buck Paradise Outfitters. Some days hunters will come in for supper with many exciting stories of the nature, weather, and of course wild life they experienced or saw that day. Other days the stories are very thrilling to hear of someone shooting out, or a hunter and guide looking for their buck that took all day to find in the woods. Today was an exciting one, and its only early afternoon. Stuart Thibodeua shot out at around 9:00 this morning. This is the second year in a row that Stuart has shot out with guide Garet Kuypers. Gary Elza shot out not long after this morning, guided by Jeremy Ford. They are very happy with their new trophies. Jay Haynes who shot yesterday morning is out at Clark Conachers a local taxidermy. Jay has decided to get a european mount for his new buck. Hunters are still out at their baits hoping for their new trophy to walk on in. The day really has just began.
Becca
---
Nov 7/16 - Hi to everyone, Becca here. Katie has left us this morning, and is off for her new adventures. We all miss her smile, compassion, and hard work she has done for the Buck Paradise crew and the Kuypers family. If you don't know by now I have been with the Kuypers family for almost 3 years now, as I date Grants oldest son Garet. The Kuypers family and I have had many amazing memories & adventures together. I am very happy and blessed to have a seconded family like the Kuypers.
I adore meeting new people and learning about their lives, and passion for hunting, So I am always excited when I pull into the drive way of Buck Paradise because there is always new people to meet and new memories to be made. We have nine hunters in this week. Many have returned from past years. Seeing familar faces are always great, catching up and reminiscing on past memories from following years. Today Jay Haynes shot out at around 11:30 his guide was Jayce Wilson. Check out the pic of him and his Whitetail deer on our gallery. Still hunters to come in to camp so maybe there will be another buck to post. I look forward to keeping everybody up to date on the journal. Night all.
Becca
---
Nov 6/16 - New crew comes in today!! Murray and Felix are our only hunters out today good luck boys! Everybody else has hit the road home yesterday. Too the boys that headed out it was great meeting some of you for the first time and catching up with the boys who had been up previously! Love hearing all the stories and daily adventures at the dinner table and of course sharing a few drinks together at the bar. Another great week at Buck Paradise the adventure and fun around here never ends!! Unfortunate for me today will be my last day here for the season as I head out to Washington State for a friends wedding!! Becca will be taking over the journal from me now. I'm sure she will keep you updated with all the adventures and daily goss at Buck Paradise throughout the rest of the season. Thanks a bunch for reading and please check out our photos, keep updated with the journal and go have a fantastic day!!
Katie :)
---
Nov 5/16 - Hi all!! Another great day here at buck paradise. Sun has held up and some of the local farmers who didnt get their crops off in time for the first snow are now making the most of the weather and getting the job done. Hopefully we'll have a few nice days here and they'll be able to get it all finished!!
Bob shot last night and tagged a buck. His guide Jayce and Bob have been tracking the buck today but I haven't heard any news as too if they had any luck finding him yet. Wishing Bob all the best and hopefully we will see the boys back with a good buck tonight but not having heard back it could be either way right now. Rob, Bryon and Murray are all sitting in stands hopfully they will all have ripper stories once they come back in tonight!! Change over day today also. Hunters made their treck back to their home towns. All leaving with big smiles as they leave with plenty of good memories, hunting stories and bucks!!!!
Katie :)
---
Nov 4/16 - Hey hey!!! So just catching you all up to speed from last night.... Rob had an awesome buck come in. Its been on trail camera pics for while and Jayce (Rob's guide) was chasing it all last year with many hunters sitting on baits in the area. However this guy is smart and has escaped without harm time and time again. Last year he was captured on the trail cam coming in late at night which is totally out of shooting hours - tell ya this buck knows the game well!! This year however he made his entrance to the bait during day light. Rob using a muzzleloader had him lined up but unfortunately missed the shot. Lucky for the big guy he was quick to leave and with muzzleloaders taking up more time to re-load than a riffel there were no second chances. Gun was re-sighted in and cleaned good last night. Who knows maybe just maybe this big buck will be lurking around the bait today. With all the does around, anything is totally possible. Staff will be eagerly waiting to here how the day pan's out and if the buck we've all been waiting so long to see willl finally make his arrival to the shop.
And thats not where it ended yesterday either Scott tagged a buck yesterday arfternoon around 5pm for memory.... I could be a little off with the timing here but a lot has happened so just stick with me. Unable to see the buck but seeing an obvious heavy blood trail. Tracking was left for the morning with pretty high confidence the buck wouldn't have gone too far.
Morning hit. Early morning breakfast to kick off the day and hunters were off with their guides. Around 10am news hit camp that Ed had a buck down. Buck came in around 9am following the scent of a doe who had been at the bait for a while. Ed said it was a quick 5 second decision after seeing the buck it was the one he was going to shoot. Not too much longer after guide Garet and friend Jim were on their way out to check out the buck and bring it back to camp where Garet since skinned it and Ed is off to the taxidermy as we speak with the hide and antlers. Photos will be on the website soon!
With one buck down and another being tracked it wasn't long until Steve and his guide Jeremy were back in the yard. Fully loaded with a buck on the back. So happy for the boys they managed to find it and wont be long before Jared has the smoker cranked again and Jerky on the go. Probably a day or two so the meat can both rest and marinate but boy the jerky is so good and goes bloody fast around here too!!
Katie :)
---
Nov 3/16 - Havent seen any bucks come in yet the s'mornen. Crossing over into the arfternoon were still hoping to have another buck in sometime this sarvo.
Well the sun decided to make an appearance today which is always nice! So were all making the most of it here at Buck Paradise and getting some clean up done around the yard. Grants on the skid steer leveling the yard and filling in pot holes here and there. Jared and myself are taking it in turns pressure washing machinery and putting it away nicely in the combine shed. Becca has been kept busy with cleaning in the shop and picking things up around the yard. Monica's in the kitchen. Meat loaf went down a treat last night and with steak on the menu tonight I'm forecasting no-one will be leaving the table with an empty stomach!!!
Katie :)
---
Nov 2/16 - Another buck hit the ground today. Scott tagged out early this morning. Biggest buck he's shot so far and another happy hunter hanging around camp. Three bucks down so far in three days pretty good average at the moment if ya ask me!! Hopefully we will have a lot more big bucks coming in. Boys are paciently waiting in the stands keeping their eyes peeled for a dream buck. Merchandise stock is selling fast!! Hoping to be able to place another order today and get a bunch more stuff in. If your coming up make sure you allow a few extra dollars to take home some awesome buck paradise merchandise!
To all those baseball fans out there apparenty tonight is a big one!! Shop will be filled and plenty of drinks no doubt. I'm not really a baseball follower myself but will deffinately be here to watch and serve appertizers. Do or die game, good luck to your favourite and enjoy the rest of the arfternoon!
Katie :)
---
Nov 1/16 - Second day into the hunt for most of our hunters this week and another buck down. Mark G tagged out at about 9:15 this morning after having a few does and smaller bucks coming into the bait. Always different for every hunter with what they see during the day. Some have seen plenty of does, a few buttons and spikes around. Talking to a few of the hunters last night at dinner Ryszard had a nice buck come in of which he possibly might shoot given the chance again. Cant wait to hear tonight if the buck came back or not. Few of the other boys have seen countless does and small bucks but its a bit of a waiting game paticence is the key right now and knowing their out there it makes for a long day waiting. Everyone takes the wait different from reading, stretching, some have the occassional nap or shut eye (of which unless their is two in your stand I wouldn't reccomend napping incase the buck you've been chasing happens to come through...), games on phone, taking photos or videos of animals coming in and out etc. I love hearing all the stories of how people spend their day, what they've seen and which were above all the best parts. Tiny bit of snow today but nothing too much and tempratures although they are cold its still pretty warm for Canada yet. All our Bucks shot so far during the season are now on the website! White Tail 2016 is well underway as we head into our second week. Still a lot more hunting time left and guides are working hard to stick to their guns and find the best areas and biggest bucks. Have a great day guys and thanks for reading!!
Katie :)
---
Oct 31/16 - Change over day yesterday saying good bye to a great group of hunters and welcoming in another bunch of keen hunters!! Bit of a mix this week with some first time Buck Paradise hunters, Canadian and US hunters and also a few fimilar faces. Great to see everyone arriving safetly and all were eager to hit the bush today. Just after lunch we had word hit camp that Jim has tagged out!!! First day out and buck down. Cant wait to see the buck when it comes in. Photos will be up on the website hopefully by the end of the day! But if not I'll get them up first thing in the morning for sure.
Katie :)
---
Oct 29/16 - Well bucks are all capped out. Horns have been checked out and admired by everyone in camp and even a few of the neighbours. Jared has been cutting up all the meat from yesterday. Scott, Clay and Todd left us this morning. Both Scott and Todd tagged out and photos are in the gallery, which can be located from the home page. Safe trip home boys and hopefully we will be seeing ya again in years ahead. Bryon and Bruce arrived at camp last night. Both have been up here several times before and its always great to have them in camp!!
Guides are all working hard between taking hunters too and from their best baits and keeping up with baiting. Plenty of does moving around which is great to see since these girls bring the bucks in close. Three bucks down. Frist week and its certainly not over yet. More bucks to come!!!!
Katie :)
---
Oct 28/16 - Awesome news. One buck down last night and two this morning before lunch. Bucks are on the move for sure and we have some happy hunters in and around camp today. Todd was first to tag out, guided by Ian. Photos will be up on the website today!!! Scott and Paul tagging out within 20min of each other today. Both guided by Jayce who has been a busy man gutting and caping deer! These photos can also be found in the photo gallery and I urge you to go check them out!! Some great bucks down. Better yet the day is not over with hunters eagerly still waiting on a buck we could still see more coming in tonight!
Thank goodness everyone is at full health today! Bouncing back quick with a few hunters not feeling all that crash hot yesterday. Its awesome having camp looking and sounding a little brighter today!
The farm house has spent the last few weeks under renovation with an outside face lift. New windows, cladding and railing. Not quite finished yet but so close!!! Its certainly looking good!! Grant boys Garet and Ian are obviously both thrilled about the new reno's. I'll try find a pic from before and take a pic once its all complete to show you all the difference.
Katie :)
---
Oct 27/16 - Hey all!! Well I dont have a whole lot to add at the moment. Most of the hunteres are out hunting at the moment. Unfortunately we have a few hunters down sick which sucks but Monica is working hard nursing them back to full health with chicken noodle soup and ginger ale. Hopefully they will be feeling a lot better soon and be able to get back out in the stands tomorrow shoot a big buck and feel 110% better!!! Halloween is getting closer and bar has been decorated with a few things. Not celebrating Halloween in Australia I'm always keen for the dress ups and decroations when I'm in Canada!! Cant wait!! :) :) Hope you have all got good plans may your day be full of sunshine, smiles and laughter!!
Katie :)
---
Oct 25/16 - Havent heard from our hunters in the bush today. Hoping we will be suprised yet with a buck coming in but not looking too promising at this stage as the day pushes to a close. Yesterday most hunters had a good selection of does and fawns passing through as well as a few small spikes. Nothing big at this stage but early days and these bucks take time and patcience!! They dont get to be as big as they are by casually strolling past every bait that for sure.
Merchandise store is looking great!! 3 nice wolf hides are up for sale and I'm expecting they wont last long. They make a great addition to a hunting collection and I'm sure would look great in a living room as a floor rug or eye catching decor on the wall. All ready to go these hides range from prices as low as $600us through to $750us depending on the size. All hides look great and are on display here in the bar and merchandise store for all to see. If your coming up be sure to take a look at them.
Katie :)
---
Oct 24/16 - Set for yet another awesome day here at Buck Paradise. First lot of white tail hunters arived yesterday and are currently all out in the bush sitting in blinds awaiting that big buck to walk though. Bit of a patience game waitng on the right buck to come in but knowing their around always keeps the suspence running. Well me and Grant are off to set a new bait keep enjoying your day guys and hopefully we will be seeing bucks in here soon!!!
Katie :)
---
Oct 23/16 - Hey all!!! Hope your having a fantastic day. First group of white tail hunters arive today and man am I ever excited to meet everyone and hopefully see some awesome bucks coming in soon!!! Jayce and Corey are out baiting again today. All the guides have been busy during this week with finishing set ups ready for hunters and baiting. White tail season is soooooo close. Kitchen is smelling great with Monica back and boy the food is always so good! Grant, Jared and myself cut up a bunch of meat yesterday and today Grant and Jared have been smoking a bunch. Boy if you like jerky you gotta try this stuff the boys have done a ripper job!! Deer jerky. Buck Paradise specialty!!! Come get your self some!!!
Katie :)
---
Oct 22/16 - Boys put in another full hard day baiting and cutting trails yesterday. Was pretty quiet around the yard. I shot through to Lloyd to pick up a bunch of radios and do a little shopping while I was in town. BRC "Bul Ridding Canada" was on in Lloyd last night. Was amazing!!!! I've never been to a bull ridding event before man I was extatic and loved every second of it!!!! Today me and Grant are gonna cut up some yummy deer meat which will be used for either jerky or sausage. And back to the bull ridding for me tonight!!!! CANT WAIT!!!!
Katie :)
---
Oct 20/16 - Well scores are in and it was definately a close call between the two buck!!! If you have missed a few days of reading I'll quickly catch you up to speed..... So Grant, Garet, Ian and Corey were all fortunate enough to get draw for a Mule Deer tag thins year. Garet was first to shoot out with a 182 3/8 nice buck and setting the bar high to say the least!!! Less than two days later Grant tagged out and his buck scored a whopping 186 2/8. Just beating Garets score..... Two awesome bucks!! Both these boys have to be extremely happy and proud of there effort and harvest. Ian and Corey are still to shoot. I cant wait to see what happens!!!
Grant and myself went to Lloyd today picked up a bunch of propane bottles to keep hunters warm during the wait for the buck of their dreams!! And also made the most of being in town to pick up some essential items such as toilet papper, laundry soap, parts for quads and anythign else that was requested from the boys before we left. Guides were all busy baiting today and will be back out again tomorrow. Cutting paths, setting blinds and doing all they can to have the best baits and area where the bucks will be coming in. Almost down to a count down before hunters arrive but until then. Have a great night and I'll be back tomorrow with another update!!!
Katie :)
---
Oct 19/16 - Hey hey!!! So Garet set the bar high with his Mule deer. Well today just a couple of hours ago Grant tagged out on a really thick nice Mule Deer Buck!!! Photos were taken and Jayce and Ian were out there quick to take a look and give a hand with loading it. Of course Grant is wrapped!! Beautiful buck! The antlers havent been scored yet.... but I'm eager to see what it scores out at and who will be taking the lead between Grant and Garet (father and son). Yikes it gonna be close and either way both boys will leave as winners with these awesome bucks! Shoulder mounts are the plan for both. I'll let you know tomorrow what he scores out to be. Photos of both Grants and Garets bucks can both be located in the photo gallery!!
Katie :)
---
Oct 18/16 - Well I'm guessing most of you have heard the news or see the photos but if not Garet (Grants eldest son) shot a really nice Mule Deer yesterday arvo. Scoring out to 182 3/8. Nice work Garet!! Photos can be found on the website or Grants facebook page. Loads of Does were spotted out there and it wasn't long into his hunt he came across this nice Buck. Knowing straight up it was the one he wanted. Using a muzzleloader Garet lined the buck up in the scopes and well rest is history.... this buck will make a great mount for sure and will be hard to beat. Grant, Ian and Corey all have tags this year. Garet has certainly set the bar high but no doubt the other boys wont be backing down!
Saskatchewan residents are the only people in which can shoot Mule Deer bucks. And before doing so they must first go into a draw. According to the boys its roughly every four years your name will be drawn. Unfortunatley Grant can't sell guided hunts for the Mule deer however we do have a few openings left for White Tail Season which is just around the corner!!! If your keen on shooting a Saskatchewan buck and would love to be apart of the Buck Paradise 2016 white tail season give Grant a call. 1-780-214-4638. This man will also be able to answer any questions you may have been unable to find on the web page or any other queries in regards to hunts provided by Buck Paradise. Openning hunts vary and generally fill up fast so to mark a spot early give him a call send an email and come up have a fantastic trip, taking home plenty of memories and a full fillled hunting experience.
Katie :)
---
Oct 17/16 - Hey all!! Waterfowl has now come to a close and we are a day into our 1 week change over gap between seasons. Monica has gone home for the week to have some well deserved down time and catch up with her two sons. Corey, Jayce and Ian are all out bush setting baits again today. Roads have been getting pretty icy and plenty of snow everywhere!!! Grant is currently clearing the drive way with the bob cat as we speak. Quite a lot of snow fell last night leaving a glowing white from one end of the yard to the other. In my opinion its absolutely beautiful!!!! However not everyone has the same view.....
The farm house is getting a face lift. Can't wait to see the finished project! Snow and ice is making work harder and longer for builder Mike. But he is truly doing a fantastic job and toughing it out in these cold wintery conditions!
First group of white tail hunters are due to arrive on the 23rd Oct. Unfortunately for me I wont be able to make the whole season as I think I may have mentioned previously. Due to a friends wedding I will be headed out early but hope to be back either a few years from now or best case next year. Becca (Garet's girlfriend) will be taking my place and I'm so excited for her because it truly is a fantastic job!!! And she will be kick butt awesome at it too!
Merchandise store is looking awesome!! With a few more items now in stock. Shortly I will add a few photos to the merchandise album in the photo gallery. Check them out and bring some extra cash when your next up. Suprise your wife, kids, girlfriend, neighbour and or any other special people in your life with a buck paradise merchandise item. Prices range from $20-$160. With a great selection there is definatley something for everyone!
Katie :)
---
Oct 14/16 - IT'S SNOWING!!!!! Well just a quick fill in. Waterfowl hunts have been going great!!!! This morning both groups limited on geese. With one crew limiting on ducks as well as geese. So only one crew out on a duck hunt at the moment and its snowing hard!! Big snow flakes coming in which could make for a slightly difficult hunt but we will certainly find out how they went once they get back in for Dinner tonight!!! Last days of waterfowl are closing in with our final hunt tomorrow morning. Wow the season has shot by so fricken fast!!!!! Well watching this snow out the window and its defiantely not pulling up. Yet its getting thicker and thicker!!!!!!!!!! :) :) Soooo I'm gonna have to go and build a snow man now. Enjoy the rest of your afternoon and I'll let ya's all know tomorrow how tonights duck hunt went with all the snow and fill you in with how the last hunt for 2016 went also.
Thanks for reading!
Katie :)
---
Oct 13/16 - Hi all!!!! Kicking off our first hunt this mornen boys did a great job one crew limited on ducks and shot a handful of geese as well. While the other half the crew shoot plenty of geese this mornen and have headed out this sarvo to get the ducks. Along side with their guide Jayce and dog Tikka.
Katie :)
---
Oct 12/16 - Hey hey. Goose hunts were awesome this mornen with limits reached all round. Great way for the boys from Utah to end. Final change over for duck today with our last group of hunters for 2016 waterfowl season due to arive within the next hour or so. Snow has pretty well all melted now and hopefully the geese will flock together a bit more. Barcley, Jayce and Jared are currently spotting as we speak. Grant had to make a trip to Lloyd. Monica just got back from a grocery run and is now in the kitchen preparing another awesome meal. Spagetti bog is on the menu tonight. Yummm!!!
Not too much else going on right now. Looking forward to our last 3 days of waterfowl and welcoming the oncomming white tail season ahead!! More snow is due to arrive Friday. Which yessss I'm am pretty pumped bout!!!! :) :) Although in the same respect I'd love to see it clear up enough for the farmers in the local area that didnt beat the snow so that they can finish taking off their crops and then it can snow hard..... yeah that sounds good. Hmm guess we shall have to wait and see!!
Katie :)
---
Oct 11/16 - Hey All!!!! Snow has hit and it hit hard it areas around us but thankfully we've had plenty enough to build some awesome snowmen but not too much that it sends the geese away. Hunters have been doing great through the snow, little cold or freezing no doubt but suprising to me there are still a lot of ducks and geese in the area. Not long now until we hit the end of waterfowl with a group of 11 guys in at the moment from Utah and our final group of 12 hunters arriving on the 12th October. So tomorrow. Wow waterfowl has definately shot by this season and it has been soooooo much fun. Loads of limits reached with both duck and ge